Presse
Frank Weber has skillfully put these engaging tunes carefully alongside Saoirse Mhor's songs. What results is an absorbing collection a traditional, yet very contemporary music and song.
Frank Weber clearly has the skill required to put together, and execute, an engaging set of tunes.
... The band ["Fleadh"] is at its best when Frank Weber's pipes or whistles are at the forefront. He has a lightness of touch that makes their playing among the best you'll hear. Just listen to the lift they give to 'Hunt The Squirrel' - I enjoyed it so much I stopped the disc to play it again.
..., and the well-known Frank Weber on uilleann pipes. Frank's subtle playing of the pipes gives body and character to the music, while still allowing the clear sound of the other instruments come through. The result is well-rounded music with its own distinct bounce!
They [the Rhine Valley Céil&iacute Band] played music of the highest quality with whistle, keyboard, uilleann pipes and flute, what a combination, and the music was played with great joy and expertise.
Auszeichnungen
Deutscher Rock- und Pop-Preis 2020:
Zweiter Platz in der Kategorie "Bestes Blasinstrument" (mit Fleadh)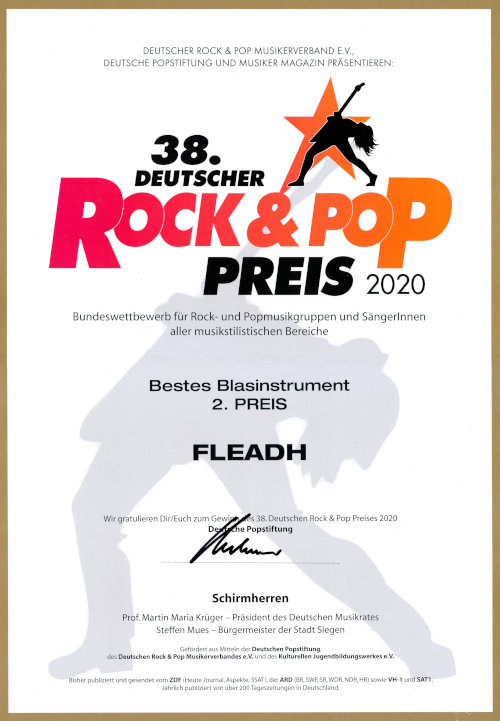 Deutscher Rock- und Pop-Preis 2015:
Erster Platz in der Kategorie "Bestes Blasinstrument" (mit Fleadh)